So while the Groom may not have really started looking at what he'll be wearing on the big day, I've been all over the internet, figuring out which tux looks I think will work for him. Of course, he'll get final say (as long as it doesn't look like this!):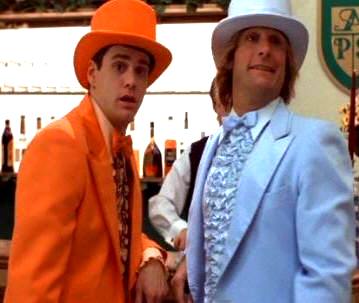 As I often have to wear suits for work (and the Groom does not), I like to think I can draw upon a bit of my "suit" expertise for him. For example, I cannot STAND the look of double-breasted jackets:
Maybe because I hate this kind of jacket on women, I also can't stand this look on men.
Now with Becks below, we might be getting somewhere...
I like all three of these looks:
And I think our main goal will be to avoid super shiny lapels! Once I get the Groom to sit down and look online at what Men's Wearhouse has to offer, our next stop will be an actual store to open up an account and put down a deposit - and to start getting our fathers and groomsmen to pay a visit to their respective locations!
But no post on tuxes is complete without...
What did your groom wear for your wedding? Was he not the least bit excited to sit down and look at tuxes online?