With the ringing in of 2012, one of the first things I did was go through each of our vendor contracts, to check out payment dates and when we next should expect to get in touch with the vendor. While we don't really need to touch base with any vendor until about a month ahead of the wedding, I am very excited to speak to my florist again and see some mock-ups of what we can expect on the wedding day!
My bouquet will be mainly medium to soft pinks, with a small scattering of lilac and purple shades. Something like: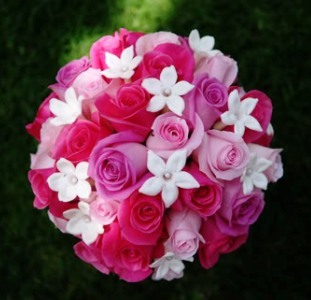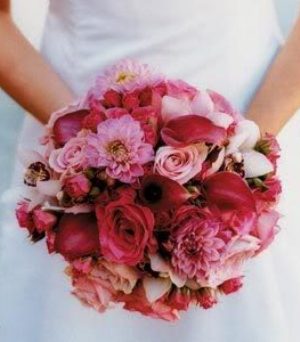 Right now, I'm planning on the bridesmaids' bouquets being similar to mine. I briefly debated having all white bouquets for the bridesmaids, with my bouquet being in color, and then I Googled this look and was not a fan!!
Nope, this look is not for me!
We are not doing any flowers at the church, but we will have flowers at our cocktail hour, and throughout the reception space. We decided to go with low centerpieces, as we felt like our reception space was already broken up a bit by columns, so we didn't want high centerpieces.
Hopefully, those will look something like this (and with lots of votive candles):
What are your thoughts on wedding flowers? Have you started thinking about your bouquets or centerpieces yet?