Just so this blog doesn't turn into unending posts about how the wedding recaps will start really soon, I figured it was the right time to do my summer round-up of books! Yay, books! Yes, if you know me (or have traveled with me), you're well versed in just how much I read. I read A LOT!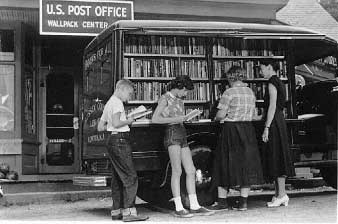 Imagine a bookmobile. Now imagine all those books stuffed into my suitcase instead of a truck! And voila, now you know what it's like to travel with me!
Anyway, I thought I would list out some of the best books I've read over the summer! This also coincides with my notice from the library that NINE of the books I requested to be held all came available at the same time. Yeah, that's embarrassing!! (More embarrassing: I'd recommend only about a third of the books I read. It has to be REALLY good for me to recommend it to friends!)
I felt like I had to tell the librarian I was going on vacation, even though I'm not. Even librarians seem to not understand that I am a FAST reader, and that when your total commute time each day is two hours (an hour there, and an hour home), you have a lot of time to read!
Sidenote: And while I read books on my iPad too, I still prefer actual physical books. And if Borders were still in business, I'd be buying a lot more books than checking them out of the library! I'm impatient! If I have to wait for Amazon to deliver as my local Barnes & Noble isn't that convenient, I might as well wait for the book from the library, right??
So in no particular order...here's what I've enjoyed reading this summer in the past few months:
Jeneration X, Jen Lancaster. If you have yet to read any Jen Lancaster and you're looking to laugh out loud - start with Bitter is the New Black. I love her books! And I like to think I got my sister hooked on her as well. You can also check out her blog here! (Jen Lancaster's blog, not my sister's! Though my sister blogs now too. Maybe a story for another post!)
The Age of Miracles, Karen Thompson Walker. Take your typical coming of age novel set against the backdrop of the Earth's rotation slowing down and days becoming longer. The writing is excellent and the story super engaging! I read this in a weekend.
Let's Pretend This Never Happened, Jenny Lawson. Better known as the Bloggess, I can't remember how I stumbled upon her blog. But start with this post first! This is her "mostly true" memoir and I loved it! Warning: you will laugh out loud, and may even snort.
The Dressmaker, Kate Alcott. This engrossing book starts off on the Titanic and then follows what happens through the eyes of a seamstress maid once she and other survivors make it to New York after the sinking.
I previously read A Discovery of Witches by Deborah Harkness, and am working my way through the sequel Shadow of Night. If you're looking for a well-written narrative with lots of action and non-sparkly vampires, I'd recommend starting out with A Discovery of Witches!
And here's what's next for me - can't wait for Labor Day weekend to dive in!
and
Have you read any good books lately? Make your recommendations in the comments!