I finished out part of our Crate and Barrel wedding registry back in June when I ordered a wedding gift for another friend. I was dying to replace my crappy blender, so I splurged and bought this beauty: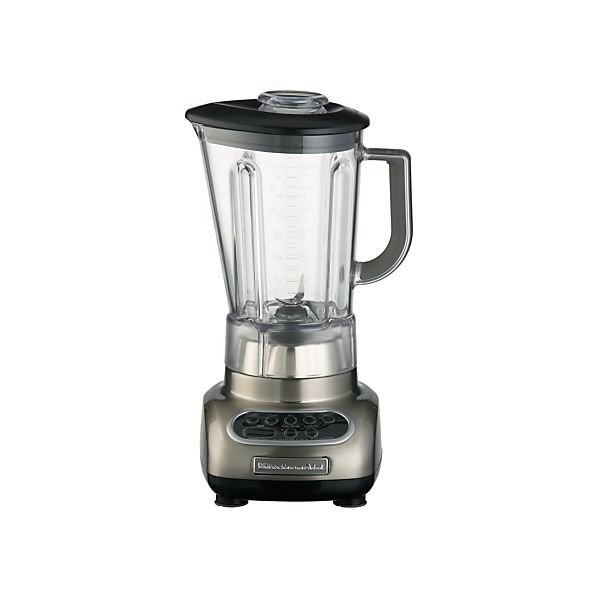 The very lovely Kitchenaid 5 Speed Metallic Blender from
Crate & Barrel
As someone who has never spent more than $50 on a blender, I was VERY excited to buy this! And I was very happy with my purchase until recently...when Gene went on a smoothie bender! Yes, the man became obsessed with smoothies and adding things like soymilk and ridiculously expensive juice. Blargh! I'll stick with my yogurt and fruit smoothies, thanks so much!
Anyway, the more he used the blender, the more often it began to leak out the bottom while blending! Yes, the smoothie bender came to an abrupt halt with much cursing and mess on our kitchen counter. When more cursing happened last night with half the smoothie ending up on the counter, I finally decided to look on Kitchenaid's website to see what could be done. I sent an email to their support folks and described what the problem was, and they emailed me back promptly this morning, letting me know that they were shipping me a new blender pitcher! (Now this model is spiffy and one piece, so the blade is in the bottom of the pitcher with the machinery to turn the blade down in the non-pitcher base).
Hopefully we just ended up with a dud pitcher/blade assembly and the new pitcher will take care of the problem. Regardless, I am very impressed with Kitchenaid's customer service! I will also keep you posted on whether this solves the problem.
In the meantime, have any good smoothie recipes? Or blender recipes in general? I'm always looking for fun milkshake ideas!